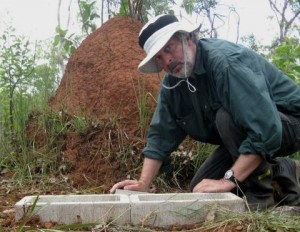 Don has media experience and is usually happy to be interviewed for print, radio or TV on a wide range of termite and pest subjects.
Not much happening in the time of Covid. Conferences cancelled or cut. Can't even visit the test site at right. Did manage to give a prerecorded talk for FAOPMA 2021. This is about a 65mb video file after much squeezing . . . sadly the questions and answers weren't included in the video because there was a great question about soaking timbers in salt water to prevent termite feeding.
Latest interview on 7/9/21, was a quick advice bit on the 7 Morning Show which you can see here for a while.
A bit like one with them in November 2020 that's no longer online.
Amusing myself by writing about termite poo (click to access pdf):  The importance of termite faeces_FAOPMA_Magazine_July_2020L Or here's the link to the full issue (a much bigger pdf file): FAOPMA Magazine July 2020.
Latest  fun bit for the young was a short segment for Melbourne Polytechnic on the Scope children's science show on Network Ten Australia,  which ran from December 2108.
Dropped in at the ABC Far North Radio studios to record a session with Adam Stephen, their hard working Drive host. Unfortunately, they don't keep their podcasts for long, so here is the short (15 min or so) interview as aired on Tue 16 October 2108.
The State of Victoria stands alone on mainland Australia in its head-in-the-sand denial of termite risk. Meanwhile, people are suffering serious losses with no recourse. The Victoria Building Authority is relying on "alternative facts". Here's a new home buyer who found the termites moved in almost as soon as she did: Mordialloc Chelsea Leader on 3 February.
In early January 2017, The Age (Fairfax) was keen to have a story on what a good pest Summer Melbourne is currently having. This was quickly followed that day by interviews on 3AW and 774ABC Melbourne. The story ran in the SEN news (which is weird for a Sports station) and was picked up by KIIS 101 FM as well as most of the Fairfax mastejheads/websites eg. Port Macquarie.
Talking termites on radio 3AW,  3 January 2017:
Don was interviewed at length about managing termites in new construction but the published story was padded out with horrors and what went to air was turned into a scare story focusing on existing buildings with unresolved problems. This is always a risk.
Much better was a short spot taking calls on Sydney ABC radio 702 for Mornings with Linda Mottram (on May 14, 2013). You can still get it as a podcast. October 2013 also saw a desert-island-discs style interview with Margaret Throsby on ABC FM. You can find it on their program page and also hear the Woodbox Gang's delightful "Termite Song". It was repeated for their summer series on 28 November 2013. Aaron Kearney, host of ABC local radio 1233's Breakfast Show in Newcastle called me early one morning (19 March 2012) to discuss a plague of landhoppers (amphipods). A long drought had broken and the pest populations had grown enormously so that previously rare creatures became a common nuisance. No mention of termites at all this time.
ABC local radio in the Kimberley and radio 720 in Perth (July 13, 2009) covered the termite mounds of the Kimberley  which was a bit hard without a species list and preparation time . . .
There's no web record left of :
 An EPK should be here soon. if not ask for one

Always happy to try to provide useful answers to questions about termites and any kind of urban pest. Do call. Meanwhile, media people can reach Dr Don by submitting this form: