Dr Don's work is mostly contract research, Field Biologist pest audits. expert witness & dispute work, training and assisting pest management businesses. Fees are competitive and retainers are available. Click on the topic links in this paragraph or scroll down to browse and there is a contact form at the end.
Assisting business
Commercial operations and business premises often have pest problems. These pests may be constant annoyances, seasonal arrivals or event-based outbreaks. We do a lot of audits of food production and handling operations (Field Biologist appraisals) but others such as transport, logistics, hospitals, aged care and educational institutions are commonly assisted.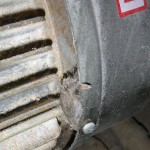 Jobs cover a huge range of pests, issues and customer needs. Business services include, risk assessment, pest identification, site survey, management plans, quality audits, training materials, integrated pest management (IPM) planning, in-house staff induction & training and assessment of pest management services and options. We will also review service provisions and contracts, assist with proposal evaluations and the drafting of specifications. Pest risk management companies are increasingly being assisted in the development of their corporate documentation and policies.
Recent work includes providing advice on termite risk management for buried electrical cabling and fibre optic systems, resistance of plastics, risks at various locations and actions to manage some unusual pest risks
For the contracting pest manager, services include pre-contract inspection, field biologist annual quality inspections, evaluation of options and outcomes, reporting advice and various forms of training..
Pest Audits – Field Biologist Reports – Pest Risk Analysis
Busines

ses, particularly those producing, packing or handling food often require annual field biologist survey and assessment of the performance of their pest management program to meet the reporting requirements of their customers. Suppliers to Aldi, Coles, IGA and Woolworths are regularly serviced with clients from Far North Queensland to Western Victoria. Happier to go even further. A quality field biologist survey can not only help to meet HACCP and BRC requirements, it can catch emerging pest problems, improve efficiency and reduce production costs. Here's a guide to being ready for your field biologist pest management audit. To arrange a visit, use the contact form.
Contract Research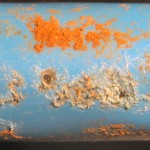 Product suppliers, manufacturers and developers, please contact us directly to discuss your project requirements. Most work covers the assessment and development of items, methods and chemicals for the control or exclusion of termites, but other pests covered include stored-product pests, timber borers (mostly beetles), fungal decay, ants, moths and cockroaches. Both laboratory and field trials are available and research may be indicative (quick and dirty) or detailed (compliance assessment) of products, chemicals or services. Assessments against Coptotermes acinaciformis and Mastotermes darwiniensis are the most common, but assessments against Microcerotermes, Nasutitermes and Heterotermes are also available. Assessments against Schedorhinotermes are sometimes possible.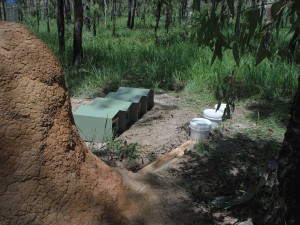 Assessment of termite management options in compliance with Australian Standards is available (Don is the principal author of AS 3660.3-2014 Termite Management, Part 3: Assessment criteria for termite management systems) and assessments to provide evidence to support CodeMark certifications are available.
Research is also undertaken to provide documents such as specifications, agreements, procedures, protocols, Codes of Practice, policy documents and training materials.
Training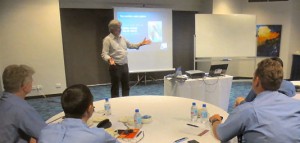 Formal training in the Australian pest management competencies is provided through Melbourne Polytechnic. Enrolments to suit specific needs are possible for
the entire Certificate III course,
the basic competencies (5, 6 & 18) to support a licence application,
the timber pest units (8, 10 & 42)
and a selection of units suitable for back office staff.
Classes are held generally as 3-day blocks. Licence training takes two 3-day blocks spaced about a month apart plus on-the-job and assignment work. It is very flexible. The full Certificate III can be done over 1 to 2 years, though some have successfully done it in 6 months. Interstate, overseas and foreign students are welcome. On-campus accommodation is a possibility. For large groups, training is possible on company premises.
Informal training is available across a wide range of needs:
Skill updates
Technical training for technicians, office/sales staff and client's staff
One-on-one technician ride-along
Working with a company's in-house training program
When things get ugly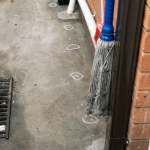 Disputes and the threat of litigation can be very damaging to both the affected client and the accused service provider. An independent third-party expert investigation may help
defuse matters where there is a misunderstanding
provide independent expert evidence to support a negotiated settlement or to inform a mediator
provide a credible expert witness report and testimony for courts and tribunals
Clients for expert witness work include property owners, body corporate, consumers, pest managers and insurers. Most of this work is expert witness assessment due to termite infestation but tasks have included stored product pests in Australia and SE Asia, rodents, mites, booklice, agricultural pests, ants, cockroaches, wood boring beetles and timber decay. Some jobs involve prospective risk such as failure of a builder or pest manager to provide the contracted services during construction/renovation of buildings Assessments of compliance with AS3660.1-2000, AS3660.1-2014 and AS 3660.3-2014 are provided. Pest managers who have a client complaint or claim can benefit from independent appraisal and advice. Often, problems can be solved by driving settlement through a weight of evidence. Recent expert witness work includes assessments and reports for consumers, service & supplier companies, and also utilities. If your problem is directly with Building Code of Australia (BCA part of the NCC), take a look at Criterion.
Fees
Fees are available on request. In general, small jobs are either quoted or charged at an hourly rate plus expenses. Anything over 7 hours is generally charged at a day rate plus expenses. Pest identification is charged at $75 to $120 (Pluss GST where applicable). Subject to the limitations of local law and the extent of insurance cover, these services are available worldwide. Distant clients are charged a little more to cover time differences and additional expenses for telephony and communication. Identifications may be cheaper and the occasional difficult identification, if pursued, may cost a bit more.
Retainers
It's efficient to have someone available to review your problems, when the need arises. A quick phone call, without the slow-down of expenditure approval or engagement rigmarole, can be a wise investment. Smaller companies and individuals are invited to request a standard retainer. In general a retainer fee of $1,000 per annum covers up to 10 hours of email/SMS/telephone consultation and up to 10 pest identifications. Larger businesses, lawyers, and law companies are charged at a higher rate. Subject to the limitations of local law and the extent of insurance cover, these services are available worldwide. Distant clients are charged a little more to cover time differences and additional expenses for telephony and communication.
Contact Dr Don
Contact Dr Don: