Dr Don's work is mostly contract research, Field Biologist pest audits. expert witness & dispute work, training and assisting pest management businesses. Fees are competitive and retainers are available. Click on the topic links in this paragraph or scroll down to browse and there is a contact form at the end.
Assisting business
Commercial operations and business premises often have pest problems. These pests may be constant annoyances, seasonal arrivals or event-based outbreaks. We do a lot of audits of food production and handling operations (Field Biologist appraisals) but others such as transport, logistics, hospitals, aged care and educational institutions are commonly assisted.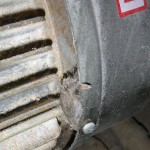 Jobs cover a huge range of pests, issues and customer needs. Business services include, risk assessment, pest identification, site survey, management plans, quality audits, training materials, integrated pest management (IPM) planning, in-house staff induction & training and assessment of pest management services and options. We will also review service provisions and contracts, assist with proposal evaluations and the drafting of specifications. Pest risk management companies are increasingly being assisted in the development of their corporate documentation and policies.
Recent work includes providing advice on termite risk management for buried electrical cabling and fibre optic systems, resistance of plastics to termite attacks, risks at various locations and actions to remediate and manage some unusual pest risks.
For the contracting pest manager, services include pre-contract inspection, field biologist annual quality inspections, evaluation of options and outcomes, reporting advice and various forms of training..
Pest Audits – Field Biologist Reports – Pest Risk Analysis
Businesses, particularly those producing, packing or handling food often require annual field biologist survey and assessment of the performance of their pest management program to meet the reporting requirements of their customers. Suppliers to Aldi, Coles, IGA and Woolworths are regularly serviced with clients from Far North Queensland to Western Victoria. Happier to go even further. A quality field biologist survey can not only help to meet HACCP and BRC requirements, it can catch emerging pest problems, improve efficiency and reduce production costs. Here's a guide to being ready for your field biologist pest management audit. To arrange a visit, use the contact form.
Contract Research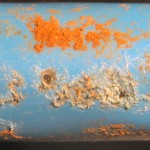 Product suppliers, manufacturers and developers, please contact us directly to discuss your project requirements. Most work covers the assessment and development of items, methods and chemicals for the control or exclusion of termites, but other pests covered include stored-product pests, timber borers (mostly beetles), fungal decay, ants, moths and cockroaches. Both laboratory and field trials are available and research may be indicative (quick and dirty) or detailed (compliance assessment) of products, chemicals or services. Assessments against Coptotermes acinaciformis and Mastotermes darwiniensis are the most common, but assessments against Microcerotermes, Nasutitermes and Heterotermes are also available. Assessments against Schedorhinotermes are sometimes possible.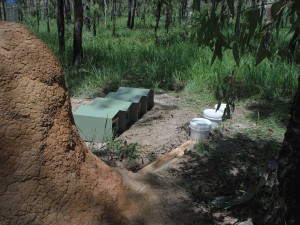 Assessment of termite management options in compliance with Australian Standards is available (Don is the principal author of AS 3660.3-2014 Termite Management, Part 3: Assessment criteria for termite management systems) and assessments to provide evidence to support CodeMark certifications are available.
Research is also undertaken to provide documents such as specifications, agreements, procedures, protocols, Codes of Practice, policy documents and training materials.
Training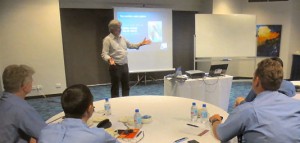 Formal training in the Australian pest management competencies is provided through Melbourne Polytechnic. Enrolments to suit specific needs are possible for
the entire Certificate III course,
the basic competencies (5, 6 & 18) to support a licence application,
the timber pest units (8, 10 & 42)
and a selection of units suitable for back office staff.
Classes were held generally as 3-day blocks. Licence training takes two 3-day blocks spaced about a month apart plus on-the-job and assignment work. Training will return as primarily online with classes as needed, when required. It is very flexible and means you can learn from anywhere on the planet so interstate, overseas and foreign students are most welcome and government TAFE fees are relatively low. The full Certificate III can be done over 1 to 2 years, though some have successfully done it in 6 months.
Informal training is available across a wide range of needs:
Skill updates
Technical training for technicians, office/sales staff and client's staff
One-on-one technician ride-along
Working with a company's in-house training program
When things get ugly & Expert Witness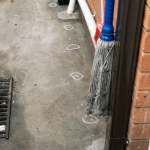 Disputes and the threat of litigation can be very damaging to both the affected client and the accused service provider. An independent third-party expert investigation may help
defuse matters where there is a misunderstanding
provide independent expert evidence to support a negotiated settlement or to inform a mediator
provide a credible expert witness report and testimony for courts and tribunals
Clients for expert witness work include property owners, body corporate, consumers, pest managers, power companies, pole maintenance people, buried cable people, product manufacturers, government agencies and of course insurers and their agents (here's a short listing of non-confidential clients). most this work is expert witness assessment due to termite infestation but tasks have included stored product pests in Australia and SE Asia, rodents, mites, booklice, agricultural pests, ants, cockroaches, wood boring beetles timber decay. Some jobs involve prospective risk such as failure builder or pest manager provide the contracted services during construction renovation buildings assessments compliance with AS3660.1-2000, AS3660.1-2014, AS3660.3-2014 and AS4349.3 are provided. Managers whose clients complaint claim can benefit from independent appraisal advice. Often, problems be solved by driving settlement through the weight evidence. Recent work includes reports for consumers, service & supplier companies and utilities. If your problem is directly building code compliance (BCA or NCC), first take look at Criterion BCA.
Contact Dr Don
Contact Dr Don:

Some Clients
AgServ (Pesticide distributor), Annex Holdings (Manufacturers), Armstrong Lawyers Pty Ltd, Attorney General's Department (Federal), Australian Environmental Pest Managers' Association, Australian Food Industries Pty Ltd, Australian Plastics and Engineering Pty Ltd, Bayer Cropscience, Bayer Environmental Science, Blake, Dawson, Waldron (Lawyers), BlueScope Steel, Brookfield Multiplex, Cameron Wright Assurance Assessing, Corvina Foods, Criterion Building Codes and Access Pty Ltd, CSIRO Building Research, CSIRO Publishing, CSL-Behring, Department of Agriculture and Fisheries (Queensland), Dept. of Health & Human Services (Victoria), Dept. of Natural Resources & Environment (Victoria), Dept. of Primary Industry Victoria (Pest Survey), DG Skinner & Associates (Lawyers), DLA Piper (Lawyers), E B Mawson & Sons Pty Ltd (Quarry products), Ecospan (Research Consultancy), Energy Safe Victoria, Ensystex (Chemical company), Environment Victoria (Research & Interpretation), EPA NSW (Provision of a draft Code of Practice), Ergon Energy (North Queensland electricity), Expert Consulting Pty Ltd, Exterminex (Termite bait company), FCBA (French Institute of Technology for Forest-based and Furniture Sectors), FM Insurance Company Ltd (Singapore Branch), FMC (Chemical company), Freehills Patent Attorneys, Gippsland Ports, Granitgard Pty Ltd (Termite system supplier), Hall & Wilcox Lawyers, Hellmann Worldwide Logistics Pty Ltd, Howden UK Group Limited (Insurers), Hunt & Hunt (Lawyers), HWL Ebsworth Lawyers, Jim's Building Inspections, Kent Relocation Services (Storage and transport), Landers & Rogers Lawyers, Lend Lease, Lovell Chen Architects & Heritage Consultants, Maddocks (Layers), Major Projects Victoria, MarquetteIP (Lawyers), Maunsell (Consulting Engineers), Meier Denison Guymer (Lawyers), Melbourne Polytechnic (Course writing & media appearance), Mills Oakley (Lawyers), Mondelez Australia, Moray & Agnew (Lawyers), New Zealand Ministry of Agriculture and Fisheries (Biosecurity New Zealand), O'Neill Marengo (Lawyers), O'Donnell Griffin (Solar engineering project), Orora St Regis-Bates (Paper goods manufacturers), Pacific International Insurance, Phillips-Fox (Lawyers), Port of Hastings Development Authority, Property Partnerships Pacific (Real Estate Developer), QBE Insurance (Australia) Limited, qBrand (Marketing Consultancy), Rapid Solutions (Insurer), Santos (Mining & Resources), Scales (legal service, Rockingham WA), Schetzer Constantinou (Lawyers), Scientific Pest Management, Specsavers (Optometrists), Tatchell-Sheedy (Lawyers), Tolhurst, Druce Emmerson (Laywers), Unisearch (Research), Vincent CCL Pty Ltd (Lawyers), VisionStream (NBN Fibre optic cable company), Wangaratta District Base Hospital, Warrumbungle Shire Council, Watson McNamara & Watt (Lawyers), Western Power (WA)