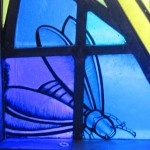 This is a rough guide to termites which aims to
help people with termites pest problems,
introduce termites for students,
and also to
be a resource for the just plain curious (like me and possibly, you)
Please read this disclaimer. If you need expert or technical pest work done, check drdons.net/consult.
Things are (almost) all working OK. Please report any issues.
What's here?
A jumble of information derived from answers to termite questions from people around the world. You can learn lots about termites, what they are and what they do, about avoiding termite problems, how to get rid of termites if you have them and how not to get rid of termites. Warning: some people may be overwhelmed by the amount of information.  Better to aim to be just whelmed by searching using the search box.
Now
In my part of Southern Australia (yes, I probably live on a different continent) it is the end of a record warm Winter and heading into Spring with the threat of polar vortex chills.  Termites are doing just fine for now. It is always a good time to have your home professionally inspected and any necessary remedial works undertaken. If you are super-confident, infallible (& rich enough to bet-the-whole-house) then, by all means, do your own inspection, but really it is better to employ a specialist.
Where's
Wally

Don?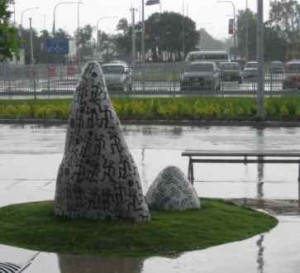 There's field biologist surveys, another Standard needs updating, some contract research, some fun training and the usual consultancies and expert witness assessments.   Don's teaching is again being revamped at Melbourne Polytechnic with updated classes covering the Australian pest management competencies, Specialist short courses for people with the old licence who need updating to the competencies 5,6&18 and 8&10 are being developed to run after the Summer. Teaching is mostly done for 2019. Interstate and International students are most welcome. Last year saw the first student from Sri Lanka, this year we have one from China. Update training is critical for Australian technicians and inspectors working with the modern installed termite systems and the Melbourne Polytechnic Master Class update (with RPL) is an excellent way for skilled and experienced practitioners to be right on top of it all again. Training can be done anywhere on the planet you if can get enough people . .
Don has been talking at trade shows for AgServ in Melbourne) and Adelaide  and at the Educon pest conference in Queensland and a session on termites and moisture in buildings for the annual conference of the Institute of Building Consultants in Canberra and gave a talk on manageing the West Indian Drywood Termite (Cryptotermes brevis) for the forest group of DAF in Salisbury, Brisbane.
Also TiPRM  have special day classes on termites for back office staff on November 11, and then on November 15, a general termite update for technicians who work with them.
Big project is assisting The Institute of Pest Risk Management to grow quickly. So, I see a lot of desk time.
Testing things for people is ticking along nicely with lab tests running roughly as expected and several potential clients after quotations.
Industry challenge at the moment is still the way the Australian Building Codes Board (ABCB)  implemented the 2014 Standards from May 1 2017 and required existing products, systems and chemicals to have assessment to AS 3660.3-2014. There's barely been time to do the testing, and a lot of misinformation is still circulating. See the AEPMA Newsletter. A re-worked and fully updated AS 3660.2 for managing termites in existing building was published in 2017. The policy-forced transition from comfortable "Guidelines" to more rigid "mandatory provisions" the 'should' bits becoming 'shall' bits was always going to ruffle some feathers.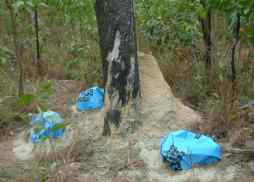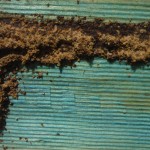 Why Dr Don's Termite Pages?
Working at CSIRO, 25 years ago (!), I was spending far too much time answering telephone queries from the public (instead of getting my own work done). So when the web began to emerge, I created a simple page (At an experimental site generously provided by Baylor, a Christian University in Waco, TX) hoping to make my answers accessible.  When I started this site, Alta Vista (the original search tool) indexed only 35 pages that contained the word "termite" in the whole of the web. Now Google reports well over 29 million pages that include  "termite". Unfortunately, lots of those termite pages don't necessarily deliver anything helpful to you. Some of it is utter rubbish. Be very wary out there, particularly where people are trying to sell you magical stuff.
For the first few years after CSIRO these pages were at Labyrinth and some old links still point there. Please let me know if you find any of those old links. The move to drdons.net meant I have a lot more control but that move and this update has cost a lot on the Page ranking scale.
When this all began, back at CSIRO, each month only about a thousand people would drop by. Now the site averages many thousands of hits each day. I wish that 3 million plus people would also read my research papers! Please feel free to drop me a note.
What's with the odd title photo?
In Far North Queensland, there is often a greater mass of termites than grazing cattle. The scene shows the mounds uncovered when a fire has removed all the grass. These grass-eating termites will survive because their mounds contain a store of food ready for the Wet Season when it becomes too damp too feed. Some small and damaged mounds are lost to the heat.
Where are the old pages?
Most are still there, but in my latest software updates, a couple of the old fun-bit pages stopped loading. Sorry about that. A code fix is on the way, but harder than I thought.