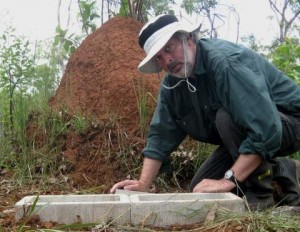 Don has a wide range of media experience and is usually happy to be interviewed for radio or TV on a wide range of termite and pest subjects.
Experience has made him a little wary of current affairs TV shows because you never know what they'll do with what they've shot and words and meanings can be lost. For this 26 July 2013 one on Australian TV , Don was interviewed at length about managing termites in new construction but the story was padded out with scary bits and what went to air was turned into a scare story focussing on existing buildings with unresolved problems.
Much better was a short spot taking calls on Sydney ABC radio 702 for Mornings with Linda Mottram (on May 14, 2013). You can still get it as a podcast. Latest was 21 March on Joseph Thomsen's ABC Goulburn-Murray breakfast show–link coming soon. October 2013 also saw a desert-island-discs style interview with Margaret Throsby on ABC FM. You can find it on their program page and also hear the Woodbox Gang's delightful "Termite Song". It was repeated for their summer series on 28 November 2013. Aaron Kearney, host of ABC local radio 1233's Breakfast Show in Newcastle called me early one morning (19 March 2012) to discuss a plague of landhoppers (amphipods). A long drought had broken and the pest populations had grown enormously so that previously rare creatures became a common nuisance. No mention of termites at all this time.
ABC local radio in the Kimberley and radio 720 in Perth (July 13, 2009) covered the termite mounds of the Kimberley  which was a bit hard without a species list and preparation time . . .
There's no web record left of :
 An EPK should be here soon. if not ask for one

Always happy to try to provide useful answers to questions about termites and any kind of urban pest. Do call. Meanwhile, media people can reach Dr Don by submitting this form: